Membranes & Pressure Vessels
There are several types of membranes used in water treatment, including Reverse Osmosis(RO) membranes, Ultrafiltration(UF) membranes, and Microfiltration (MF) membranes. RO membranes are highly effective at removing a wide range of impurities and contaminants, dissolved solids, bacteria, and viruses. UF membranes are used to remove suspended particles and macromolecules, while microfiltration membranes are used to remove smaller particles and contaminants.
Pressure vessels are containers that hold the membranes in place and provide a flow path for the water to pass through the membranes. They are typically made of durable materials such as stainless steel or fiberglass and are designed to withstand high pressures. Pressure vessels are an important component of membrane water treatment systems, as they provide structural support for the membranes and allow the water to flow through them.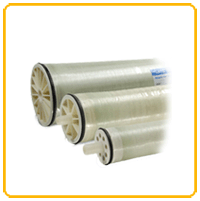 Code
2M9010016
2M9010012
2M9010021
2M9010011
2M9010009
2M9010008
Model
SUF-4040-0.3
SUF-4040-0.1
SUF-4040-0.03
SUF-8040-0.3
SUF-8040-0.1
SUF-8040-0.03
Specification
500-1000LPH, 0.3um
500-1000LPH, 0.1um
500-1000LPH, 0.03um
2500-4000LPH, 0.3um
2500-4000LPH, 0.1um
2500-4000LPH, 0.03um
UF Membrane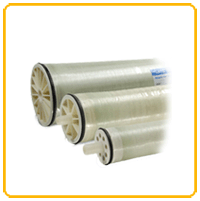 Code
2M2530001
2M4090002
2M4090003
2M9010011
Model
ULP-2540
XLP-4040
XL-4040
ULP-8040HF
Specification
2.5"x40", 800GPD
4"x40", 3000GPD
4"x40", 5000GPD
8"x40", 12500GPD
RO Membrane
FRP Pressure Vessel
Code
2N4060001
2N4040002
2N4040006
2N4040007
2N4040008
Model
Firstline - 4040
Firstline - 8040
Firstline - 8080
Firstline - 80120
Firstline - 80160
Specification
300PSI - End Open
300PSI - Side Open
300PSI - Side Open
300PSI - Side Open
300PSI - Side Open
Code
2N3010002
2N3010003
2N3021001
2N3010004
2N3021002
2N3022001
2N3022002
Model
SPP-2540
SPP-4021
SS-4021
SPP-4040
SS-4040
SS-8040
SS-8080
Specification
2.5" x 40" SS304 Body - PP End Caps
4" x 21" SS304 Body - PP End Caps
4" x 21" SS304 Body - SS End Caps
4" x 40" SS304 Body - PP End Caps
4" x 40" SS304 Body - SS End Caps
8" x 40" SS304 Body - SS End Caps
8" x 80" SS304 Body - SS End Caps
Spec Sheet
Download
Download
Download
Download
Download
Download
SS Pressure Vessel